Sports Business Canada Weekly Round-up is a weekly blog featuring top Canadian sports business stories from the past week.
TFC was the centre of attention at the beginning of this week as they formally introduced Jermain Dafoe and Michael Bradley to the squad. To promote the joyous event, MLSE and agency Sid Lee launched a multi-platform campaign 'Bloody Big Deal'. Here's some of the highlights of that:
1. Out of home
This was Jermain Dafoe's ride for the day. Excellent activation!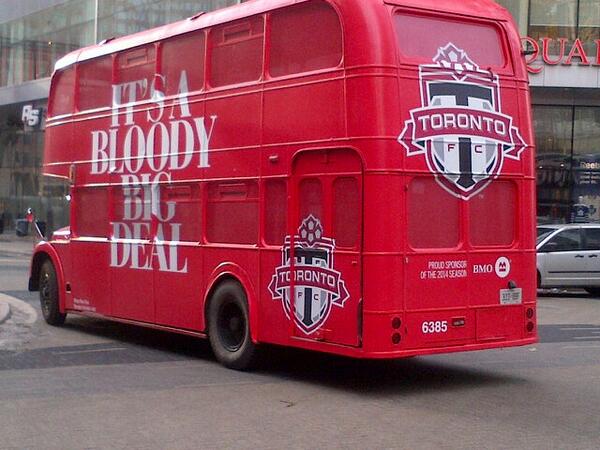 2. TV
Sticking with Sid Lee… the agency has been handed the task of working with MLSE on the Raptors rebrand.
Read the story from Marketing Magazine…
And finally, Tim Leiweke discussed what the Dafoe and Bradley deals mean for Toronto FC, Raptors, and Leafs with Tim and Sid on FAN590.
Sacramento Kings to accept Bitcoin – ESPN NBA
From south of the border, the Sacramento Kings announced Thursday that they will become the first professional sports franchise to accept Bitcoin virtual currency. I wonder if any Canadian teams will hop on the bandwagon?
Canadiens Forward Creates Burger for Quebec-Area McDonald's Restaurants – Sports Illustrated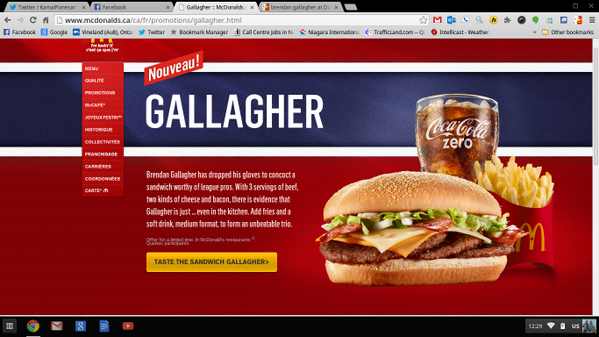 Pizza Nova Sponsors MLB's Toronto Blue Jays – isportconnect
Major League Baseball team Toronto Blue Jays have revealed Pizza Nova as an official partner of the team and Rogers Centre in a new three- year partnership agreement starting in January 2014.

The partnership will bring Toronto-based Pizza Nova into the Rogers Centre to be the exclusive pizza served at all Rogers Centre events, including all Blue Jays home games. The new agreement also includes prominent broadcast signage behind home plate during all regular season home games, in-stadium and point-of-sale branding and bullpen wall signage.